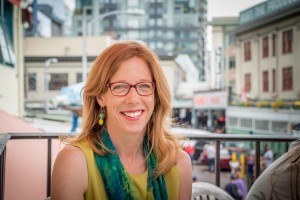 I've been wrangling words professionally since 2005, when I began reviewing theatre for a daily Seattle newspaper. That's where I learned to compress oodles of information, images and opinion into a few high-octane words.
(Who says a theater degree isn't practical?)
I relish the writing life because I'm always learning something new and meeting great people—from artists to bagel-makers, college students to small business owners.
What sets me apart? I excel at translating an organization's–or an individual's–values into concise, crisp copy that really sings. I blend creative flair with sincere respect for your deadlines—and just enough whimsy to keep things fun.
Looking for a writer to level up your storytelling strategy? I'd love to talk with you. Please get in touch at 206-659-5088 or email kelly@kellyleehuffman.com.
Awards & Recognition
2015 CASE Region VIII Communication Awards: Silver
The University of Washington Foundation's 2014 Report to Contributors captured the silver for development writing. I contributed three pieces to this annual publication.
Judge, 2015 CASE Region VIII Alumni Magazine Awards
I was honored to serve as one of three judges evaluating submissions by alumni magazines in five states.
Fortune Magazine's 100 Best Companies to Work For: Top 20
To win a spot on this nationally known list, each competitor submits a mammoth application that's one part spread sheet, one part annual report, and one part long-form essay. In 2007, I led content production for REI's annual bid to appear in the rankings, resulting in a top 20 placement for the company.